Aldon "Amethyst" Mappable Ignition System.
Making digital engine management more affordable than ever.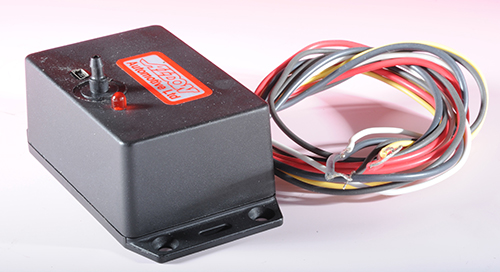 The Amethyst mappable ignition system connects discreetly to any distributor retaining 'The Classic' look, whilst giving full user control over advance characteristics for vacuum and boost.
Compatible with Aldon Ignitor, other electronic ignition units or points
RPM and load maps
Easy configuration via laptop with USB connection
Configurable "soft" rev limiter
Built in immobiliser
The Amethyst unit takes its input from your existing distributor (once advance is locked) and calculates the required ignition advance based on RPM and inlet manifold pressure.  The unit can be configured via a PC connected to its USB port.
The software package allows you to choose and/or modify from any of the preloaded maps or download your own existing advance curve, which can then be modified to suit your engine specification. You can switch between two of your stored maps remotely, without the need to connect to a PC.
The advance characteristic can be matched much more closely to the engine's requirements than is possible with conventional advance springs and a vacuum bulb. Benefits include improved driveability and economy, and ultimately better all-round performance.
Amethyst is available in two versions.  The vacuum advance version is ideal for a naturally aspirated engine equipped with a conventional vacuum advance distributor.  The vacuum pipe to the distributor can be connected directly to the sensor on the Amethyst unit, and any desired advance curve can be set.  The boost version is designed for turbocharged engines, and can be configured to either advance or retard the ignition with positive boost.
Dwell is automatically calculated to combine strong sparks at all times with minimum load on your coil.  The dwell angle can be entered manually if preferred.
The Amethyst incorporates an effective immobiliser, and you can set a "soft" rev limit up to 10,000 RPM.
For the most accurate results, Amethyst should be used in combination with Aldon's "Ignitor" electronic ignition unit.  However, it can also be used with conventional points.
Full software package and user guide is included. However Aldon or any other recognised rolling road companies can also undertake mapping for an additional cost.

Specifications
| | |
| --- | --- |
| Input | Aldon "Ignitor" electronic ignition unit or points |
| Number of cylinders | 1 to 12 |
| RPM range | 0 to 10,000 |
| Rev limiter | 2,000 to 10,000 RPM |
| Vacuum range | 0 to 20" Hg |
| Boost range | 0 to 1 bar |
| Dwell angle | Automatic |
| | |
| Supply voltage | +8v to +20v |
| Supply current | Less than 100mA |
| Operating temperature | -25ºC to 80ºC |
| | |
| Configuration interface | USB 2.0 |
| Operating system | Windows XP, Windows 7, Windows 10 |
Now Available for immediate despatch - Call 01384 572553
or contact us on info@aldonauto.co.uk.